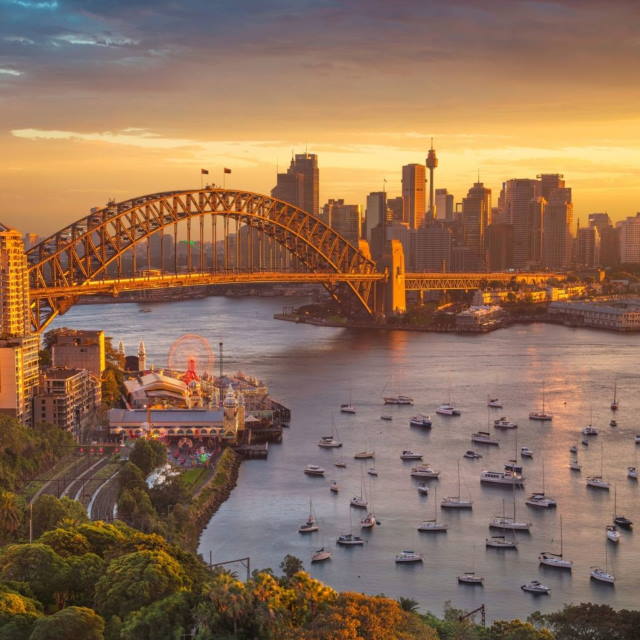 Sydney
Set sail from Circular Quay and watch the sun go down over the Sydney Harbour Bridge. A day out on Sydney Harbour is not only iconic, it's a must-do experience. The balmy summer evenings in Sydney's CBD makes superyacht venues popular for all occasions: weddings, birthday parties, Christmas, corporate events and more.
Expert advice and assistance from the moment you enquire to the moment you board your yacht. The Elite Superyachts team organises private charters for all occasions: from corporate events and birthday parties to family holidays!
OUR HIGHEST RATED SUPERYACHTS
The top superyachts this month, rated by our customers.?
Ghost II is a 122ft Majesty superyacht distinctly created to suit up to 110 guests for lux...
Elite Superyacht Hire and Rental – Sydney, Gold Coast & Whitsundays 
You work hard for your money, and you deserve the best when it comes time to take to the  water to unwind. And when it comes to luxury yacht hire in Sydney, the Gold Coast and in the  Whitsundays, the best can only be found at EliteSuperYachts.com.au! 
For the ultimate in luxury yachting, why not take to the water in style? You and your friends or  family can choose a superyacht rental for a weekend escape or a longer holiday, and see some  of the amazing sites on the Australian coast that other people can only dream about. 
Leisure time is in short supply, so don't compromise with yours: hire a luxury super yacht today,  and take your family or friends on the holiday of a lifetime. 
When you choose superyacht hire in Sydney, on the Gold Coast or in the Whitsundays, you can  wake up to a new million dollar view every morning. You'll come across diverse marine life,  deserted beaches, beautiful islands, and endless sunsets that will set your pulse raising. You can  plan a detailed itinerary before you depart, or just head wherever the mood takes you! It's  completely up to you. 
We've So Many Super Yachts to Choose From! 
You'll be amazed by the facilities onboard super yachts such as Shadow, for example. She is a  sleek, 100-foot Italian made superyacht that can cater for up to 35 guests onboard. She has an  extensive sunbathing deck, Jacuzzi and backlit onyx bar for entertaining, with a range of  fabulously detailed cabins within. 
Or how about Mohasuwei? She exudes sophistication and leisure and can accommodate up to  36 guests. She's been recently upgraded with a mini cinema and formal dining area inside for  even more 'wow factor'. You also have a choice of casual dining and viewing lounges on the  upper deck. 
Don't forget that Shadow and Mohasuwei are just two of the luxury yachts for hire here at Elite  Super Yachts. With Australia's most extensive range of super yachts for hire, all on the one  website, you can access the best luxury yachts all in one place! 
Superyacht Hire and Rental Sydney 
Sydney Harbour is one of the most iconic places in Australia and is simply magnificent by day or  by night. Why not choose superyacht rental in Sydney and take your time to explore some of its  incredible beauty? You can choose to visit inland rivers or stick to coastal routes, marvel at the  Opera House and Harbour Bridge, or go island hopping to Shark or Cockatoo Islands or beyond. 
One thing is for sure: you will encounter some breathtaking views and can entertain groups of  up to 30 on a pristine superyacht like Sophia. She has a contemporary feel with three generous  outdoor entertaining areas and a superb onboard catering menu. Or how about Sahana? Some  say she is the crown jewel of our fleet, and stands apart from many other superyachts. Perfect for corporate events and gatherings, with five separate entertainment areas and three amazing  decks. She will take pride of place when you take to the water in Sydney Harbour. 
Superyacht Hire and Rental Whitsundays 
The Whitsundays are the gateway to the Great Barrier Reef, and are a world away from the stresses of everyday life. Here you will find a string of picture-perfect tropical islands, teeming  with marine life and exotic species and an idyllic lifestyle reminiscent of a South Pacific  paradise. 
When you choose superyacht rental in the Whitsundays, you can dive or snorkel to see the  Great Barrier Reef, one of the world's seven natural wonders. Or you could anchor in a secluded  cove and relax while you entertain your guests. Alternatively, you could transfer to one of the  many pristine beaches to feel the sand between your toes before going back to your superyacht  for an outstanding evening meal. 
Remember, if you choose a luxury yacht charter in the Whitsundays from Elite Super Yacht, you  can enjoy superb service, opulent living, and a sense of freedom that you've been yearning for through two years of lockdowns and stress. Just imagine what it would be like aboard Infinity  Pacific, for example? Designed and built in Italy, this super yacht for hire has some amazing  features like a Japanese soaker tub, a sea scooter and a two-storey waterslide. And here you  can bask in a sunroom with up to 12 other guests, or enjoy a cocktail party in one of the  stunningly-appointed lounges. 
Have a bigger group of people and need to hire a larger super yacht? No problem! How about  Quantum, an elite luxury superyacht for hire in the Whitsundays, which can cater for up to 45  guests. Many well-known celebrities have charted Quantum, and she is waiting for you, with  striking entertainment areas, formal dining areas and informal entertainment spots. She's state of-the-art and designed to impress. 
Superyacht Hire and Rental Gold Coast 
The Gold Coast is renowned for its relaxing lifestyle, where you'll find kilometre after kilometre  of white sandy beach and an extensive network of inland waterways. The Gold Coast is well known as the party capital of Australia, so if you're in the mood to be adventurous, why not  bring your family and friends and choose superyacht hire on the Gold Coast? 
When you hire a yacht in the Gold Coast, you'll have plenty of eye-candy to take in, with every  horizon demonstrating the lifestyles of the rich and famous! You can cruise along the canals  and check out those opulent waterfront homes. Or head out to sea and visit South Stradbroke  Island, Russell Island or Southern Moreton Bay Islands. When you hire a super yacht in the Gold  Coast, the opportunities are endless! 
Do you want to impress your guests when you choose superyacht rental on the Gold Coast? If  so, why not charter the luxury yacht known as Cosmos II? She is a 105-foot luxury superyacht  with the highest quality standards and the capacity to cater for more than 100 guests. You can  enjoy those panoramic views of the Gold Coast waterways from the top deck, or take a leisurely swim off the aft deck. Best of all, you get to arrive in style on a helicopter to really impress your  guests! 
Or maybe hiring the super yacht know as Element is more your style? She is perfectly equipped  for an afternoon anchored off the Gold Coast with her floating mat, paddleboards, waterslide  and underwater scooter. All of which provides hours of family fun. 
Hire an Elite Super Yacht from ESY Today! 
Don't delay any longer. You deserve the best. So give yourself the holiday or mini-break you've  been longing for. Call Elite Superyachts on 02 9063 1622 to talk about your superyacht hire and  rental needs in Sydney, the Whitsundays or on the Gold Coast, and look forward to an  adventure of a lifetime!